:: Posted on 5/10/13 ::
Children's Choirs Touches Lives at Solutions for Change
:: Shared by Lori Smith, Director of Children's Choirs ::
It's been a busy couple of months on ministry for our One Accord Children's Choir. On Sunday May 5, they performed at Solutions for Change in Vista for about 100-plus guests. Eight of them indicated that they received Christ as their Savior! Solutions for Change is one of our Community Outreach partners that helps homeless people with transitional housing and rebuilding of their lives.
The Lord was gracious to hold off the rain until after the performance and after everyone had their fill of the cotton candy, snow cones and popcorn that we provided. That was certainly money well spent.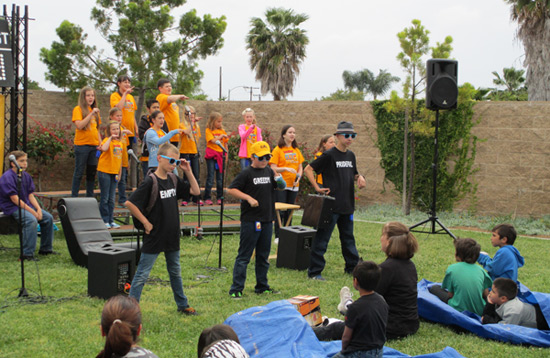 "Our residents and their children enjoyed an afternoon of cotton candy, popcorn, and snow cones as they listened to your wonderful choir present your musical about making sense of living in an upside down world," said Robyn Gilden, Community Outreach/Volunteer Assistant for Solutions. "It was a fun family time seeing the children of Emmanuel Faith Church engage the audience with a story about humility, pride and sacrifice. Thank you Emmanuel Faith Community Church!"
On Friday, May 10, the choir will sing at the Ronald McDonald House and on Saturday at Casitas Del Sol in San Marcos. Please pray for this ministry! God is doing great things through our students. See note below (previously posted).
- - - - - - - - - - - - - - - - - - - - - - - - - - - - - - - - - - - - - - - - - - - - - - - - -
:: Posted on 4/12/13 ::
Children's Choirs Impact Lives for Christ over Spring Break
:: Shared by Lori Smith, Director of Children's Choirs ::
Thirty-two 4th- to 8th-grade students spent their spring break sharing God's love with people in Arizona, performing their concert Livin' Inside Out in an Upside Down World, sharing their faith and leading 37 people to Christ!
On Saturday, March 23, we left EFCC on a charter bus with ten chaperones and seven staff along for what turned out to be a powerful trip.
Saturday afternoon we performed our very appropriate musical at the Crossroads Rescue Mission, a facility for pregnant women off the streets, recovering alcoholics and drug addicts. The audience was so moved during the performance that people were crying during the song Shepherd Boy. These are a few of the words: "But when others see a shepherd boy, God may see a king." Cheers went up after the song, "The Ways of the World are Not For Me." Afterwards, the students shared their Evangecubes and 18 were saved that day! Every night before lights out, the students prayed, by name, for the people they led to the Lord.
Sunday morning we performed for two church services, where a 6th-grade student accepted Christ as his Savior. Sunday night was a life-changing experience for many including the parents and myself. We sang at a women's and children's shelter. Seventeen were saved that evening! A precious moment that none of us will forget is when Celia Phillips shared her cube with a mother and her four-year-old that didn't speak English. The mother was translating from English to Spanish to her little girl, and at the end the girl said, "Jesus en mi corazon?" She had the biggest smile on her face and my chaperones were all crying.
Monday morning we sang for a morning chapel, and a 4th grade student received Christ. Monday afternoon we sang at a very large retirement/assisted-living facility, and hearts were touched. We did a lot of seed planting that day.
Tuesday afternoon we sang the National Anthem at the Cleveland Indians vs. Oakland A's spring training game. The group stepped up and sang like a dream and their high note at the end was right on. I was told the crowd never cheered like that! Before we even arrived at our seats, students were already talking to the crowd about where we had been and what we were all about. As we were leaving the stadium, two of our choir students were sharing their Evangecubes at the concession stand while they were getting a soda. The two men were from Victory Outreach, and they were so excited to receive a cube so they would have another tool to share Jesus.
Tuesday night we arrived back at church exhausted but with our hearts full and with new friends made for a lifetime Thank you for seeing the value in our children's choir and allowing us to share Jesus with so many hurting people.